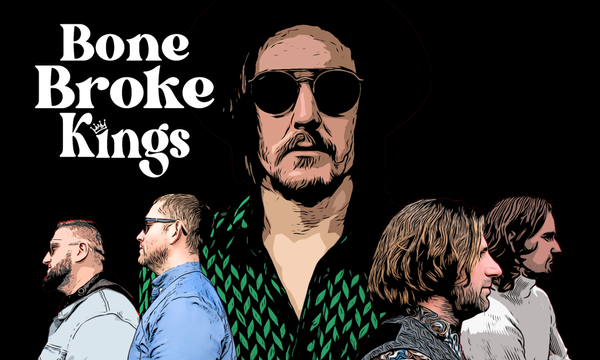 Tom Marrison - Vocals/Guitar
Greg Deller - Keys/Vocals
Jack Marrison - Guitar/Vocals
David Green - Drums
Jack Copson - Bass Guitar
Bone Broke Kings are a blues rock band based in Doncaster. 
Inspired by sounds such as The Black Keys, Black Pistol Fire, The White Stripes, Cream, The Doors, The Zombies, Supertramp, and Led Zeppelin;  their music lives in both the dark and the light. Songs such as 'Blow Em' Out', 'Basement Blues', and 'Emily Rose' are driven by energetic guitar riffs , hard hitting drums and ground moving bass. These are contrasted by a lighter retreat into mellow, melodic tracks such as 'Five Foot Angel' and 'Shine A Light' where the rhythm section becomes, paradoxically, a soporific yet mesmerizing, sonic backdrop to the sounds of Fender Rhodes pianos, Hammond Organs, and an exploration of the higher melodic end of the bass guitar.
For those who like it dark and slow then the vocal and piano driven 'Ruby Sunset' and the pseudo-psychedelic 'Don't Wait For Me' are a must listen. Whatever your flavour, every Bone Broke Kings song is laced with exquisitely phrased vocals and guitars that, at times, seem to switch from Hendrix to Harrison with seamless dexterity amidst a whirl of unique sonic power. 
Bone Broke Kings have previously released singles 'Blow 'Em Out', 'White Queen',  and 'Emily Rose.' They are currently busy recording their second album, as well as a host of new Singles at Superfly Studios in Ollerton, Nottinghamshire. 
Their debut album 'Ruby Sunset' is AVAILABLE NOW on CD, Vinyl Pre Order, Digital Download as well as all major streaming platforms.
Singles 'Emily Rose' and 'White Queen' taken from the album have already been released. Their first single, 'Blow em out' has been re-recorded and re-released in its new form.
Also available is a live version of the albums lead single 'Ruby Sunset', filmed on location at Superfly Studios.
The band regularly gig in and around the South Yorkshire and East Midlands area and have become regulars at venues such as The Leopard, Vintage Rock Bar, West Street Live, The Imperial, The Church House, and The Navigation to name a few.
Industry Quotes 
'White Queen' – Contemporary Blues/Rock at its best" 
Rock Shotz Soundz 
'They must be the finest band in Doncaster, in my opinion' 
Doc Mason – Peterborough City Radio 
'Its fresh, its funky, I really like it.' 
Sound Pylon podcast (on white queen)